When you're first starting a business, one of the most important parts of the process is planning. Although it can be tedious, you'll want to take the initial time to determine what you'll be selling, who your customers will be and how your business will make money.
You'll want to select a business model and incorporate this design into your planning and research. In this guide, we'll walk you through a business model definition, break down the different types of business models (with examples), and discuss how you can identify the best one for your business.
What is a business model?
A business model is an outline of how a company plans to make money with its product and customer base in a specific market. At its core, a business model explains four things:
What product or service a company will sell.

How it intends to market that product or service.

What kind of expenses it will face.

How it expects to turn a profit.
Because there are so many types of businesses out there, business models are constantly changing — and although we'll discuss some of the most common types below — there is no one-size-fits-all model that can be applied to every business.
Compare the details of multiple financing offers to get your business funded faster.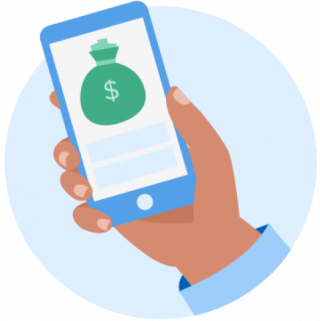 With this definition in mind, you might now be wondering: What is a business model example?
One popular example of a business model is the subscription model — in which businesses charge a subscription fee (monthly, annually, etc.) for customers to access a service. Of course, this type of business model can be adjusted and customized for each individual business, but using Netflix as an example, let's break it down based on the four points we outlined earlier:
What kind of product or service a company will sell:

Netflix sells an online streaming service.

How it intends to market that product or service:

Netflix uses a multichannel marketing strategy and markets its service through social media, email marketing, advertising and even simple word-of-mouth marketing.

What kind of expenses it will face:

As a Fortune 500 company, Netflix's expenses are extensive, but perhaps notably, its expenses will include the costs to produce or acquire the content on its platform, as well as the technology and staff needed to maintain the service.

How it expects to turn a profit:

Even though Netflix is such a large enterprise, (and has a few different ways of making money) when it comes down to it, it expects to earn a profit from its subscription sales.
From this example, you can see how the first three points contribute and circle back to Netflix's business model as a subscription service.
Ultimately, then, it's imperative to understand how your business will make money — and enough money to remain profitable after startup and additional costs are factored into the equation — this is your business model.
Essential components of a business model
When it comes down to it, business models can vary in form and function — as you can see from our business model definition and brief example, however — they all consist of the same basic components.
Essential elements of a business model include a unique value proposition, a viable target market and a competitive advantage. Without those elements, you don't have a way of generating revenue.
Business models aren't just about income — you also need to consider production costs and other factors in order to see the full picture. What goes into creating a business model? Here are the 10 components you'll want to keep in mind:
Value proposition:

A feature that makes your product attractive to customers.

Target market:

A specific group of consumers who would be interested in the product.

Competitive advantage:

A unique feature of your product or service that can't easily be copied by competitors.

Cost structure:

A list of the fixed and variable expenses your business requires to function, and how these affect pricing.

Key metrics:

The ways your company measures success.

Resources:

The physical, financial, and intellectual assets of your company.

Problem and solution:

Your target customers' pain points, and how your company intends to meet them.

Revenue model:

A framework that identifies viable income sources to pursue.

Revenue streams:

The multiple ways your company can generate income.

Profit margin:

The amount your revenue exceeds business costs.
These are the essentials that make up a business model, and they are likely to change as your business matures. From the outset, you may not have a clear idea of what each of these components will look like for your business.
As you write your business plan, however, they will become more evident and your model will provide a vision and direction for your business idea. To this point, although your business model will inform your operations, it won't solidify your business strategy in stone — as you progress, you'll be able to change and adapt your strategy based on your learnings.
Most common types of business models
Now that we've thoroughly answered what a business model is, let's break down the different types of business models. As we've mentioned, there are a variety of types of business models — and they all can be customized or changed based on the specific company or industry — doing so is often referred to as creating a disruptive business model.
Although we're going to review 12 of the most common types of business models, you will find additional types beyond those listed here.
A subscription business model can be applied to both traditional brick-and-mortar businesses and online businesses alike. Essentially, as we explained in reference to Netflix, the customer pays a recurring payment on a monthly basis (or another specified timeframe) for access to a service or product. A company may directly ship its product in the mail, or you may pay a fee to use an app.
Examples:

In addition to Netflix, other businesses using the subscription model include HelloFresh, Beer Cartel, StitchFix, as well as other streaming services like Hulu, HBO Go, and Disney+.
Exactly like it sounds, the bundling business model involves companies selling two or more products together as a single unit, often for a lower price than they would charge selling the products separately.
This type of business model allows companies to generate a greater volume of sales and perhaps market products or services that are more difficult to sell. However, profit margins often shrink since businesses sell the products for less.
Examples:

Businesses that use the bundling model include AT&T, Adobe Creative Suite and Burger King, as well as other fast-food companies that offer value meals or deals.
The freemium business model has gained popularity with the prevalence of online and Software-as-a-Service (SaaS) businesses.
The basic framework goes like this: a software company hosts and provides a proprietary tool for their users to freely access, such as an app or tool suite. However, the company withholds or limits the use of certain key features that, over time, their users will likely want to use more regularly. To gain access to those key features, users must pay for a subscription.
You can see how Spotify follows this model — it gives users free and open access to its entire database of music while sprinkling in ads between songs. At some point, many users opt to pay a recurring monthly fee for the premium service so they can stream music without interruption.
Examples:

 Spotify, LinkedIn, Skype and MailChimp are all businesses that use the freemium model.
To understand the razor blades model, you can simply look to your local drugstore. You'll notice that replacement razor blades cost more than razors themselves.
Companies offer a cheaper razor with the understanding that you'll continue to purchase more expensive accessories — in this case, razor blades — in the future. For this reason, this model is referred to as the "razor blades model."
In addition to the traditional razor blades model, you'll also see companies use the reverse razor blades model — in which they offer customers a high-margin product and then promote the sales of lower-margin products that accompany that initial product.
A classic example of this model is Apple iPhones and Macs — you purchase the high-margin item, the phone or computer, and then Apple pushes additional products, tools, and services that accompany that item.
Examples:

On top of razor companies, examples of the general razor blades model include Keruig, Brita, Xbox, and printer and ink companies.
5. Product to service model
Imagine that you are the owner of a company that makes scooters. Let's say you need two pieces of metal welded together. You might ask another company to weld the pieces of metal together instead of purchasing a welding machine yourself. In essence, this example shows how the product to service business model works.
Companies that follow this type of business model allow customers to purchase a result rather than the equipment that delivers that result.
Examples:

Companies that use the product to service model include Zipcar, Uber, Lyft and LIME.
Under a leasing business model, a company buys a product from a seller. That company then allows another company to use the product they purchased for a periodic fee. Leasing agreements work best with big-ticket items like manufacturing and medical equipment.
Examples:

U-Haul, Enterprise and Rent-a-Center are all examples of companies that use the leasing model.
Crowdsourcing involves receiving opinions, information, or work from many different people using the internet or social media. These types of business models allow companies to tap into a vast network of talent without having to hire in-house employees.
Some traffic apps, for example, encourage drivers to report accidents in real-time for the benefit of other app users.
Examples:

Wikipedia, YouTube, IMDB and Indiegogo are all examples of businesses using the crowdsourcing model.
As the name suggests, the one-for-one business model means that a company donates one item to a charitable cause for every item that is purchased. This model appeals to the charitable nature and social consciousness of customers to encourage them to purchase a product or service, while also allowing both the business and the customer to actually engage in philanthropic efforts.
Blake Mycoskie, the founder of TOMS, pioneered this form of social entrepreneurship.
Examples:

In addition to TOMS, SoapBox, Smile Squared and Warby Parker are all companies that use this type of business model.
Of all the different types of business models, the franchise model is perhaps the one that people are most familiar with — after all, we each see and likely visit franchise businesses often in our daily lives.
In short, a franchise works like this: A franchise is an established business blueprint that is simply purchased and reproduced by the buyer, the franchisee. The franchiser, or original owner, works with the franchisee to help them with financing, marketing, and other business operations to ensure the business functions as it should. In return, the franchisee pays the franchiser a percentage of the profits.
Examples:

Starbucks, Domino's, Subway, McDonald's and the UPS Store are all common examples of the franchise model.
A company operating as a distributor is responsible for taking manufactured goods to the market.
Hershey's, for example, manufactures and packages its chocolate, but distributors are the agents that transfer and sell the goods from the factory to a retailer. To make a profit, distributors buy the product in bulk and sell it to retailers at a higher price.
Examples:

Other examples of companies that use the distribution business model are HD Supply, Avent, Cheney Brothers, and ABC Supply Co.
One of the most traditional business models, the manufacturer model refers to when a manufacturer converts raw materials into a product.
Companies like Dell Computers or Hewlett-Packard, both of which assemble computers with parts manufactured by other companies, would still be considered manufacturers.
Examples:

Additional examples of this type of business model include Intel, Magic Bullet, Black + Decker and LG Electronics.
The last business model on our list is the retailer model.
A retailer is the last link in the supply chain. These businesses purchase goods from distributors and then sell them to customers for a price that will both cover expenses and turn a profit. Retailers may specialize in a particular niche, such as kitchenware, or carry a range of products.
Examples:

This is a popular type of business model — used by big-name companies like Nordstrom, Home Depot, Target and Best Buy.
How to choose the right business model for you
With all of these different types of business models, how do you choose the right one for your small business?
At the end of the day, there's no absolute answer to this question. Instead, the business model that's best suited for you will depend entirely on the scope of your operations and the costs you may incur along the way.
To narrow down your options, you'll want to start with your small-business idea and then ask yourself the following questions:
How will my product or service benefit the customer?

How will I generate revenue?

Who's my target customer?

What startup costs am I looking at?

Which expenses will be fixed and variable costs?

Do I need support from investors?
With the answers to these questions, you'll be able to gain a better understanding of how to structure your business model.
In addition, it may be helpful to research other businesses that are similar to yours (especially competitors) and see how they've structured their operations. This information will be able to inform your business model generation, as well as suggest avenues you can take to differentiate your business from others out there.
Ultimately, mapping out your business model may feel overwhelming, especially considering doing so is just one piece of planning and launching your business.
It's important to remember, however, that you can think of a business model simply as a plan that shows how you'll make money. Plus, by putting the time and effort into outlining your business model now, you're taking the necessary steps to set your business up for growth and success in the future.
This article originally appeared on JustBusiness, a subsidiary of NerdWallet.