The best point-of-sale systems do far more than handle customer payments. A system with the right features can improve daily business operations by helping you smoothly manage sales, track inventory and boost revenue with customer loyalty programs.
Transparent pricing, intuitive flows and access to live support are also important when selecting your system. Here are our top picks.
Square: Best overall
Types of businesses supported:

Retail, food and beverage, professional services (beauty, health, repair, etc.) and custom-built options.
Hardware:

Register is $799; contactless and chip card reader compatible with Apple and Android devices is $49.
Payment processing:
Varies by plan. For a free retail plan, it's 2.6% plus 10 cents per in-person transaction, 2.9% plus 30 cents per online transaction and 3.5% plus 15 cents per keyed transaction.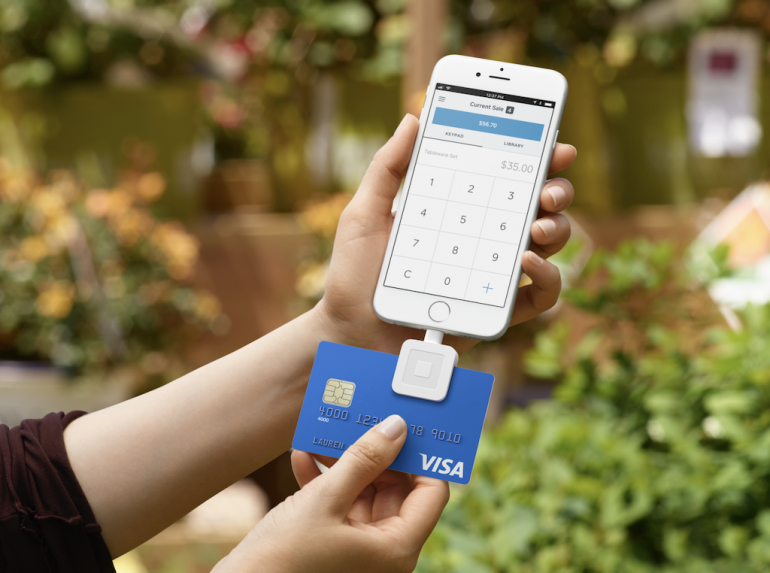 Transparent, flat swipe fees.

First magstripe credit card reader is free; free plan available.

No fees for early termination, PCI compliance, chargebacks or setup.

Versions available for retail, restaurants or professional services; offers inventory management, table and menu management, multi-location setup, online orders and appointment scheduling.

Live support available by phone, instant message or email.

Subscription fees are generally month-to-month and easy to cancel if needed. You also have the option to pause your subscriptions for up to three months.
Loyalty program and email marketing features cost extra; appointment-booking for more than one person is an additional fee.

Ability to create and print barcodes isn't available on free version.
Why we like it:

Square's point-of-sale system stands out with its transparent pricing, live support and many useful features. Unlike most POS systems, you can also opt for a plan with no monthly charges. Because it works on iPhones, Androids and iPads, you can make sales on the go — for example, at a farmers market, trade show or music festival.
Toast: Best for restaurants
Types of businesses supported:

Fine dining, casual dining, fast-casual, bar and nightclub, cafe and bakery and custom-built options.
Software: 

$0 per month and up (includes one terminal and reader). Promotional rates may apply.
Hardware: 

Full restaurant setups begin at $799 in Starter plan.
Payment processing: 

Flat-rate, quote-based; 2.99% plus 15 cents per transaction on Pay-as-You-Go plan.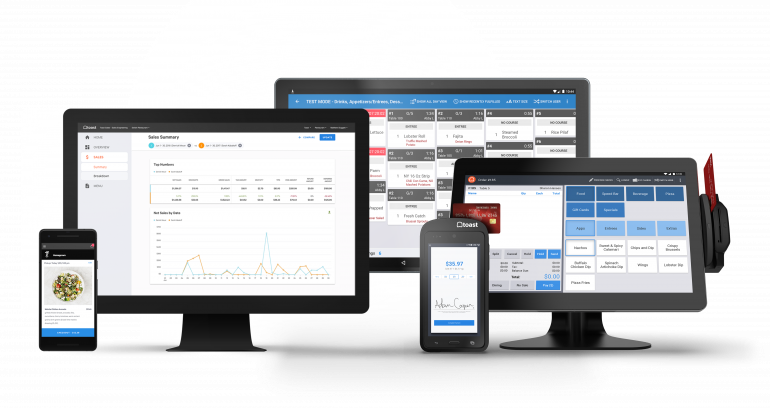 Promises no additional transaction fees or markups.

Restaurant-friendly features for managing tables, inventory and employee performance.

Multi-location management and the ability to publish different menus and set different prices at different locations.

A self-ordering kiosk system that offers contactless order and payment options for customers when paired with Toast Tap.

Live support available by phone, email or instant message.

Pay-as-you-go plan with no monthly fee available.
Two-year contract term with both Pay-as-You-Go and Standard plans.

Some features, like online ordering and the loyalty program, may cost extra based on the package you choose.

If you close your account before your contract term ends, you'll have to pay the remaining subscription and software financing fees.
Why we like it:

Toast's restaurant-oriented POS system makes it easy to update menus, track table statuses, split checks, add gratuity automatically, apply various discount rules — say, for happy hour — take online orders, manage multiple locations, track employee performance and accept tableside payments.
Lightspeed: Best for inventory management
Types of businesses supported:

Retail (apparel, bike, CBD, electronics, gift store, health, home decor, jewelry, liquor, pet, sporting goods, toy, vape, other); restaurant (bar, cafe, full-service, hotel, quick-service, other), golf (multi-course, municipal, private, public, resorts, semi-private, other).
Software:

$69 per month (billed annually) and up. 
Hardware:

One terminal included in monthly fee. Additional hardware quote-based.
Payment processing: 

2.6% plus 10 cents for card-present transactions; 2.6% plus 30 cents for card-not-present transactions.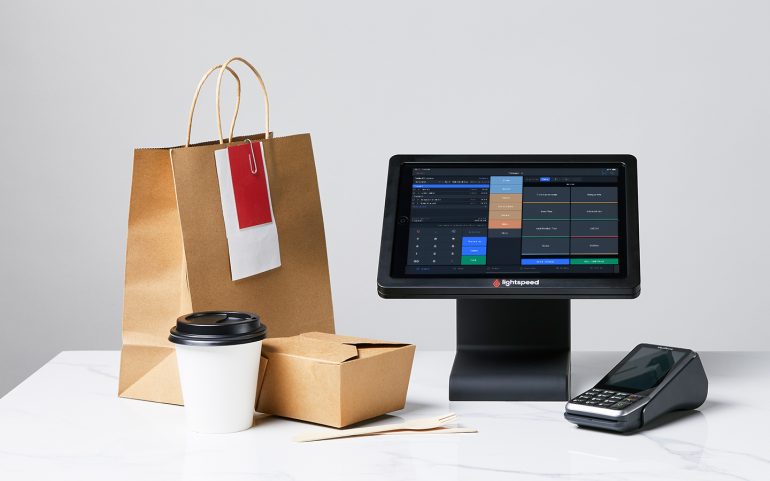 Transparent, flat swipe fees; other payment processors are available to use with your POS system, if you don't want to use the in-house option.

The only unexpected fee you could see on your statement would be $15 for chargeback, if applicable.

A comprehensive inventory management system to keep detailed records of your products across multiple locations and set automatic reorder points so you don't run out.

The restaurant POS features an adjustable floor plan, easy-to-edit menus, multi-location management and reports showing peak times and employee performance.

24/7 phone support is available in the U.S. Chat and email support are also available.
Loyalty, e-commerce, accounting integrations and analytics features included only on more expensive plans.

If you cancel your subscription, you'll immediately owe the remaining installment fees in your plan, if any apply. Prepaid annual and monthly fees are nonrefundable.
Why we like it:

The Lightspeed POS system's inventory management capabilities are outstanding at every subscription tier and more comprehensive than competitors. When entering items into your system, you can add plenty of information — such as a description, images, cost, manufacturer's suggested retail price (or MSRP), your selling price, tax and discount rules, tags, barcodes, SKUs, brands, categories and custom-built fields — which can be used to generate and filter results on reports.
Shopify: Best for e-commerce
Types of businesses supported:

E-commerce and in-store retail.
Software: 

$29 per month and up.
Hardware:

$149 for a tablet stand (tablet not included); $29 for chip and swipe reader compatible with iPhone, Android and iPad.
Payment processing: 

Varies by plan; 2.9% plus 30 cents per online credit card transaction and 2.7% plus 0 cents for in-person transactions with Basic plan. If you use a different payment processor, an additional fee applies.
Transparent, flat swipe fees.

E-commerce-friendly features, including access to vendors and resources to build an online store from scratch using this platform; drop-shipping, curbside pickup and local delivery options.

Ability to automatically email customers who abandon carts and don't complete purchases.

Tracks inventory, hides out-of-stock products and offers inventory analysis.

Plans are month-to-month and easy to cancel if needed; you can also upgrade or downgrade them at any time.

You can "pause" your store for three months with no subscription fee, or "pause and build" for a reduced monthly fee.
Live support is available only via chat, not phone.

Additional transaction fees apply if you don't use Shopify's in-house payment processing.
Why we like it:

Shopify's POS system is well-equipped to handle all the complexities that come with selling items via an online store. In all subscription tiers, you can set up an online shop and add products almost instantly, sell through multiple channels including social media, connect with vendors, automatically email customers who abandon their carts, process payments at reasonable rates and make sales in 133 currencies and multiple languages.
Clover: Best hardware
Types of businesses supported:

Table service restaurants and cafes; counter service restaurants, cafes, diners and food trucks; and retail, service and e-commerce businesses.
Software:

$9.95 per month and up.
Hardware:

$99 for a card reader; $499 for a handheld device; $749 for a mini system and a larger system with a cash drawer. 
Payment processing:

Same rate applies to all card types; starts at 2.3% plus 10 cents per in-person transaction and 3.5% plus 10 cents for keyed transactions. If you use an outside processor, different rates apply.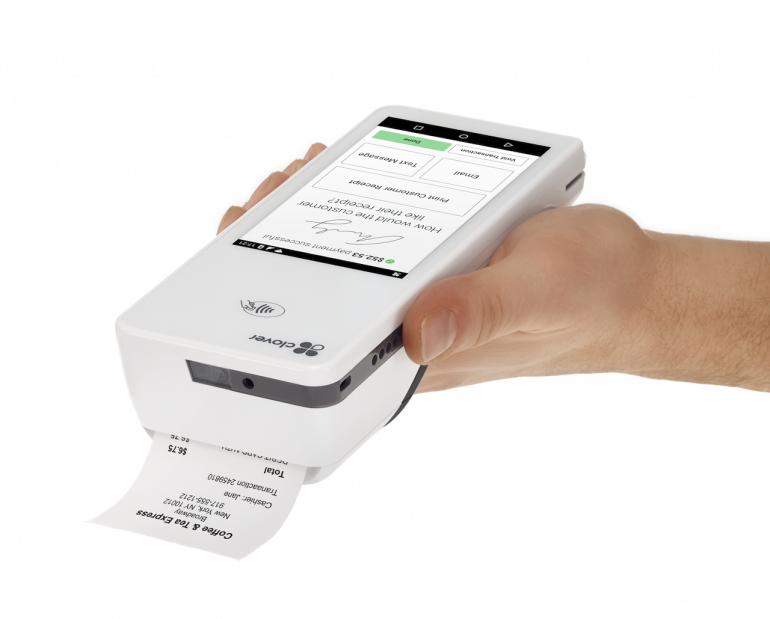 Accepts payments when the internet is down and processes them when you are reconnected.

Equipment can be returned within 60 days for a full refund.

Offers a rapid deposit option for an additional fee of 1% that provides faster access to the funds from sales transactions.

Phone support is available 24/7.

Free customer engagement tools such as discounts and perks are included to help you build relationships.
$25 chargeback fee per occurrence.

No free hardware options.

A virtual terminal costs $9.95 per month if you don't purchase a software plan.
Why we like it:

Clover's POS system stands out with its durable and versatile hardware, which makes it easy to accept orders both at the counter or on the go. You also have the option to pair the hardware and software with a different merchant account, such as one from Wells Fargo, SunTrust, PNC, BBVA or Citi.
QuickBooks Desktop Point of Sale: Best for QuickBooks Desktop integration
Types of businesses supported:

Online and in-store retail business selling jewelry, clothing, shoes, accessories, sporting goods, bicycles, furniture, hardware and other home improvement items.
Software:

One-time purchase starting at $1,200 without discount.
Hardware:

Individual devices or bundles are offered, including a PIN Pad for $389 and a $900 package that includes a cash drawer, receipt printer, wired barcode and PIN Pad.
Payment processing:

2.7% per in-person transaction and 3.5% per keyed transaction. Pay a monthly fee of $19.95 for lower rates of 2.3% plus 25 cents per in-person transaction and 3.2% plus 25 cents per keyed transaction.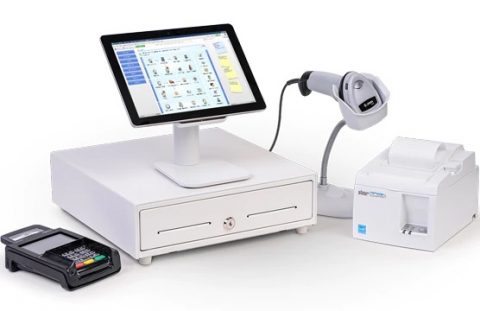 Manage inventory levels across multiple stores, identify top sellers, optimize pricing and set alerts for reorder points.

No contract or termination fees.

Automatic payments reconciliation in QuickBooks Desktop.
24/7 support is not available.

No free hardware options.

No plans that offer monthly purchase options.
Why we like it:

 The QuickBooks Desktop POS system allows sales, payments, inventory and customer data to sync with your QuickBooks Desktop account. The e-commerce integration feature automatically updates data and allows you to monitor all your sales channels including Shopify, Amazon, eBay and other online marketplaces.
Find the right payment provider to meet your unique business needs.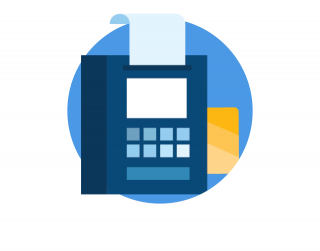 Accept payments, avoid surprises
Answer a few questions to match your business with our selected payment partners.
Frequently Asked Questions
A good POS system should come with features that help you run your business. These can vary widely by industry. Some examples of things you might want to look for:
Inventory management.

Keep track of how many items you have on hand and when you need to reorder.

Table or menu management.

View the status of tables in your restaurant, see how long it takes to turn tables, update menus and track when you run out of certain items.

Multi-location management.

Track inventory, menus or service in multiple areas, set different prices and tax rules for each location and run reports to see how each location is performing.

Loyalty program.

Reengage your customers with a point- or discount-earning system that gives them a reason to keep coming back; be able to send custom discounts — for example, a discount for a customer's birthday.
Aside from useful features, you'll also want a system that has:
Transparent pricing.

You can expect to pay a monthly fee, along with payment processing fees and hardware fees. Generally, you want to avoid early termination fees or long contracts that are hard to cancel without penalty. If payment processing comes bundled with your POS, make sure you understand the pricing first and can avoid pesky fees such as PCI compliance fees and high chargeback fees.

Intuitive user flows.

You want a system that's easy to use and understand.

Robust customer support.

 While some answers might be easy to find online, it's nice to be able to talk to someone who can help you troubleshoot when you need it.
Decide on the features you need. This will depend largely on what type of business you have. It might include items like the ability to manage tables and menus, track inventory or schedule appointments.
Weigh functionality with upfront and ongoing costs. Once you have a handful of options that fit your needs, consider the costs. How much are the monthly service fees? What does the hardware cost? How much are the payment processing fees? Can you sign up without getting locked into a long contract? You might have to call some providers to collect quotes. Try free demos or watch videos of the software in action to get an idea of the user flows. Are they easy to understand? Would it work well with your specific business?
Narrow your options. Which systems have the best customer service? Which ones might work with the hardware you already have? Which are the fastest and easiest to set up? These details might not be your biggest deciding factors, but they might be just important enough to help you make a final decision.
These days, many POS systems are cloud-based software with monthly subscription fees that vary widely. Some basic plans are free or start at $10 per month; other basic plans start at $99 per month. In some cases, setup fees apply. However, to actually make use of that system, you might also need to pay for:
Hardware.

Some POS systems offer a basic card reader for free, and you may be able to operate it using a phone, tablet or desktop computer you already have. In other cases, you might need proprietary hardware that can cost hundreds. Some POS systems charge monthly fees to use rented terminals.

Payment processing fees.

Usually, a payment processor comes included with a POS system. Every time you accept a debit or credit card transaction, you'll have to pay a transaction fee, usually around 2.5% to 3% of the transaction, plus 10 to 30 cents. Pricing can vary widely. Some processors use flat fees, so you pay the same rate for all in-person transactions, for instance. Others use interchange-plus fees, which means fees can vary depending on factors such as your industry and the type of card your client is using.

More expensive plans or add-ons:

If you want multiple registers or locations, or exceed a certain amount in revenue each month, a basic plan might not cut it. Certain features, such as inventory management features or loyalty program tools, might also be add-ons that cost extra.
Accept payments, avoid surprises
Answer a few questions to match your business with our selected payment partners.